Pacjentki Oddziału Onkologii Klinicznej RSS ?Latawiec? nie muszą tracić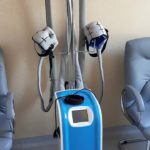 włosów podczas leczenia,  a to dzięki specjalnym czepkom, czyli systemowi chłodzenia skóry głowy, który zapobiega wypadaniu włosów podczas chemioterapii.
Sprzęt o wartości 130 000,00 zł zakupiono ze środków własnych SP ZOZ w Świdnicy.
System Paxman w sposób kontrolowany i precyzyjny reguluje temperaturę chłodzenia tak, aby miejscowo obkurczyć naczynia włosowate skóry głowy i uzyskać czasowe zmniejszenie przepływu krwi na jej powierzchni, ograniczając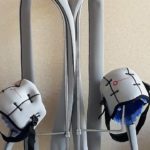 tym samym dawkę chemioterapeutyku docierającego do wrażliwych mieszków włosowatych.
Uzyskuje się to dzięki zakładanym specjalnym czepkom, w których krąży płyn o temperaturze -5°C już od podania pierwszej dawki chemioterapeutyku, kontynuując przez cały czas chemioterapii.