Darowiznę przekazał Jacek Iwancz – Radny Sejmiku Dolnośląskiego realizujący tę wspaniałą inicjatywę we współpracy z Fundacją Różowa Skrzyneczka.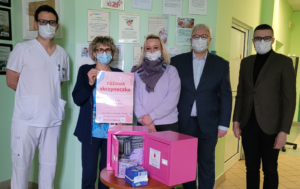 Różowa skrzyneczka to miejsce w którym nasze pacjentki mogą znaleźć niezbędne środki higieny intymnej. Skrzyneczki rozlokowane są w Oddziale oraz na Izbie Przyjęć Oddziału, a z ich zawartości bezpłatnie mogą korzystać wszystkie kobiety.
Inicjatywę "różowej skrzyneczki" w naszym szpitalu zapoczątkowała Fundacja Endomama, która działa m.in na rzecz szerzenia dostępu kobiet do podstawowych środków higienicznych. To właśnie przedstawiciele Fundacji regularnie dbają o uzupełnienie zawartości skrzyneczek.
Wszystkim zaangażowanym w inicjatywę serdecznie dziękujemy za okazane wsparcie i pamięć o naszych Pacjentkach.